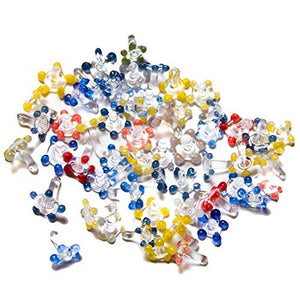 Beamer
200 Ultra Premium Beamer Daisy Glass Screens for Pipes + Limited Edition Beamer Smoke Sticker…
Regular price
$11.95
$0.00
Unit price
per
Experience the difference with our Ultra Premium Beamer Daisy Glass Screens. This listing boasts an impressive count of 200 Medium Daisy Screens, the perfect accompaniment for your pipes. Be it standard large or medium pipe bowls, our DAISY GLASS SCREENS are designed to deliver an optimal fit, ensuring a smooth and enhanced smoking experience.
Our DAISY SCREENS bear the trusted name of Beamer Smoke - a brand recognized for its unwavering commitment to quality in the smoking industry. Purchasing from our GLASS DAISY SCREEN AMAZON listing, if the product you receive isn't of Beamer brand, please report the seller to Amazon right away.
Broadening its specialty to include hookahs and hookah accessories, hookah flavors, vapor products, candles, smoking products and accessories, and rolling papers, Beamer Smoke has evolved since its inception in a small Detroit basement in 2010.
Beamer, with humble beginnings starting with one hookah and a case of orange Zig Zags, has grown into a multi-national company, turning heads and setting standards worldwide. Our GLASS FLOWER SCREENS, among other products, are a testament to this growth, resonating with customers on a global scale.
By prioritizing high-quality design at reasonable prices, Beamer Smoke has transitioned from a small basement operation to owning two factories in Detroit, Michigan, U.S.A., and even opening a third in Europe - all thanks to loyal customers like you!
In addition to your purchase of our DAISY PIPE SCREENS, you'll receive a Limited Edition Beamer Smoke Sticker. And remember to check out all of Beamer Smoke's fantastic offerings on Amazon today! Experience the DAISY GLASS revolution for yourself.
---
Share this Product
---